**I received an advanced copy from the publisher, via NetGalley, in exchange for an honest review. All quotes taken from a pre-published copy may be altered or omitted from the final version.**
4.5 Stars!!Opening Lines
"I never should've agreed to do that stupid article. I shove the magazine back onto the shelf and pull another magazine over the top to partially cover it. Not that it will do any good. The bright red letters of the "Jete" in Jete Magazine are recognizable to half the students here. It's probably the most popular magazine at out little campus book store. Even hidden, my naive happiness taunts me from the glossy page."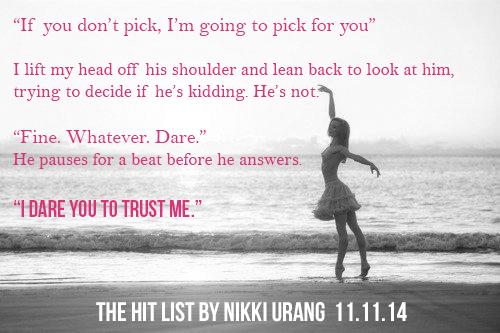 I used to dance, a lot. I didn't really focus hard on ballet, but more so jazz, hip-hop, tap and I even tried my hand at lyrical. I loved dancing, there is just something about letting your body tell a story and how elegant and graceful one can be that I just find it to be so captivating and simply beautiful. Unfortunately, I had a injury that required me to quit dance. It was a sad time in my life, but I took some years off and discovered cheerleading, but my love for dance has never gone away.
When I first came across
The Hit List
I knew I had to have it. I mean have you seen that cover? Her position is beautiful! Looking at the cover and reading the synopsis made me Youtube S
o You Think You Can Dance?
videos and clips from
Centre Stage
. Having been a dancer and the fact I have dealt with an injury I knew I would be able to connect with Sadie. That being said, you do not have to be a dancer or know everything or anything about dance to be able to enjoy this book! This just helped me connect with Sadie more. I finished
The Hit List
in two sittings, it was fast paced and I was so excited and curious to see how this would come to an end. I also really enjoyed the writing style, it was well-written and didn't feel forced. Nikki Urang's descriptions were perfect, I felt like I was actually in the room watching them dance!
"I'm fine. Just a little stressed."
"I hear sex helps reduce stress."
Jesus Christ. Of course he would know that my name is back on The Hit List. I hold up my hand. "I'm not interested. So stop. Stop with the lingering touches. Stop with the sexual remarks. Just stop."
I loved that not every character was perfect, there were characters that I really just wanted to kick (and that's putting it nicely). I loved how strong Sadie became throughout this book, she really learned to speak out and stand up for herself. And Luke, well Luke had his moments. We're introduced to so many great characters that I just didn't want to say goodbye to! This would have been perfect as a series, it book focusing on a different character or two.
This wasn't exactly sexual read, but you can definitely feel the sexual tension between Luke and Sadie. I really enjoyed seeing them evolve throughout this book. I will say though, I thought their romance would be extremely predictable...it wasn't. There was a certain about about 20 or so chapters in that had me sitting here reading screaming "NO!!!!". But everything turned out well in the end. So does this have a HEA kind of ending? Yep!
What kept The Hit List from getting 5 stars?
- Very minor, but this was something that bothered me after a little while. I found Sadie to be a tad bit too whinny at times, I completely understand her injury and the betrayal she felt thanks to Patrick but I felt she went on and on complaining about it. This also made it hard to picture her as New Adult character, I wanted her to be more mature and accept what happened and move on faster.
Overall
, I found
The Hit List
to be a great debut read! This book has made me dig up my copy of Centre Stage and re-watch it. This is definitely a book I will be re-reading again sometime soon, I only wish that it was a series instead of a standalone.
Would I recommend The Hist List?
Yes! Have you seen the two teasers I included? Doesn't think make you curious? If so, pick up this book!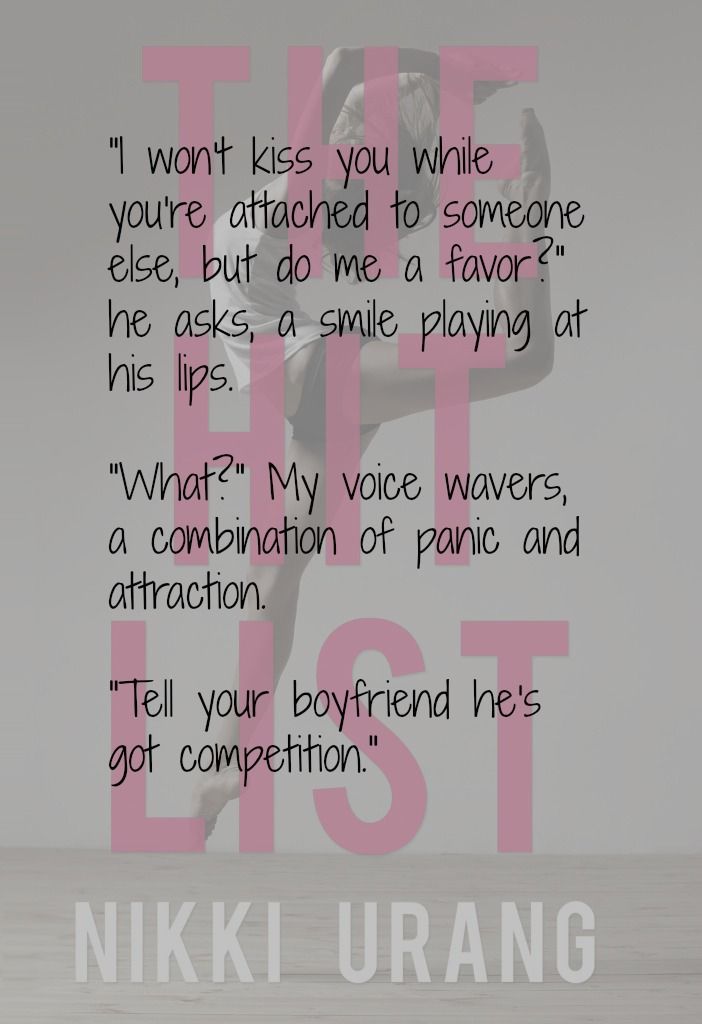 **Originally posted on
Bookish Wanderlove
.**