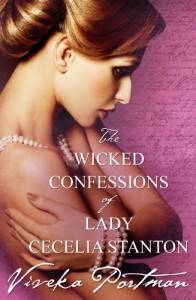 2.5 Stars
The Wicked Confessions of Lady Cecelia Stanton
was more focused on sex than historical romance. With how this was described I had expected it to be written in the form of diary entries. However the narration made it hard to follow and it no longer felt like diary entries.
While Lady Cecelia and Bess were interesting characters there was a lack of a real connection. I do not feel like Viveka Portman successfully described Lady Cecelia's feelings for Bess much less Bess' feelings for Lady Cecelia. All she does is state it, but there was no description or building up to Lady Cecelia realizing her feelings for Bess and this bothered me.
And then there's William, ugh. While he was crude and disloyal all she kept describing was how handsome he was. This description of William made it impossible for me to like him or sympathize for Lady Cecelia's lack of a backbone. I have no idea what woman would actually be attracted to a man like him.
Overall
, I felt that
The Wicked Confessions of Lady Cecelia Stanton
was more of an outline/draft rather than a final copy.